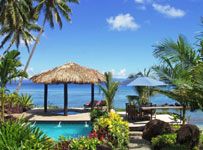 Set amongst swaying coconut trees, on the edge of a golden sandy beach in the turquoise waters of the Fiji islands is Taveuni Palms-one of Fiji's most sought after luxury honeymoon destinations. Taveuni Palms provides the perfect balance between relaxation and adventure, offering complete privacy for your Fiji honeymoon with the finest in food, service and amenities.

Book 7 nights at Taveuni Palms
and receive unlimited complimentary spa treatments each throughout your stay and to help Taveuni Palms celebrate winning at the World Travel Awards you will also receive a complimentary bottle of wine each evening at dinner. As an added bonus, all honeymooners will be gifted a complimentary snorkel excursion to the honeymoon islands.
Call the Fiji Experts 1-800-588-3454 or 1-213-784-6133

click here to speak to us right now!
Click to Request your Fiji Vacation at Taveuni Palms
or email
fijivacations@mccoytravel.com
Visit us at
http://www.Fiji-Islands.com